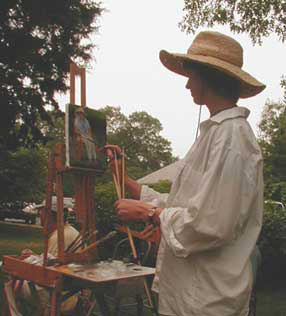 Hillary gives personal attention to each student to develop skills at their own level and towards their own artistic goals.
Lessons
Individual Private (2 hr minimum recommended) $75/hour.
Semi-Private for 2 people - come with a friend. (2 hr minimum recommended) $62.50/hour each.
Off-Season Small Classes with individual attention. Class size is approximately 4 people (4 weekly classes of 2 hrs @ $37.50/hr) $300 month.
One and Two Day Summer Workshops limited to 10 students.
Please contact the artist to be placed on the waiting list for the next available classes and workshops. Request a time for private instruction or to be included on the student contact list. Emails go out when a group class is being offered.
Class Outline
Each class starts with a brief discussion and demonstrations on a relevant topic for study. Emphasis is on developing the artist's eye through direct observation. Hillary gives one on one instruction to meet the needs of each student in a supportive setting.
Still Life Painting
Lessons are held at the Osborn & Rugh Gallery, a working studio . Students gain skills of observation by working from a still life set up and develop the ability to see color and form and learn to translate that unto their canvas. Topics covered include materials, lighting, set-up, brushwork, color-mixing, light and shadow, composition, focus, edges, quality of light, design etc.
Landscape Painting
Developing technical painting skills while working from the still life is recommended but not required before working outside. Plein air painting is enjoyable but can be challenging to the beginner because many of the elements are frequently changing. We will learn how to approach a complicated scene and work with fleeting conditions. Topics for study include composition and design, color-mixing, atmospheric perspective, focus, edges, light at different times of day, dealing with moving elements like shoreline and clouds, etc.
Materials
Lists will be provided for classes. Some materials will be supplemented by the teacher for beginners if needed. Easels are provided for studio sessions. Supply lists can also be found at Jerrys Artarama Artist Resources > Teacher Supply Lists > Students Find My List > (enter Hillary Osborn). All supplies may not be needed. Please email Hillary with any questions you might have.
Visiting Workshops
Please contact the artist if you are interested in having Hillary come to your local art or cultural center. If you have four or more interested friends request a tailored workshop for your group.
High School Students
Hillary will come to your school to demonstrate and talk about her experience as a professional artist. Field trips are welcome to the studio with advance notice. Hillary has worked with Volunteers in Public Schools and as a mentor to high school students for the past 20 years. High school students have the potential to advance quickly with private instruction. Group or private lessons are available on the weekends or after school in the spring and fall. Gift certificates are available.
Juroring
Available to jury thematic or members art shows at cultural centers or art associations in New England. Hillary has juried exhibitions throughout the area.
Lectures and demonstrations
Hillary Osborn and Doug Rugh talk about their experience as artists who have shared gallery/studio space for the past 20 years. Talks include visuals of their work with stories of set backs and opportunities that arose in the field, sharing their efforts of a life in art and how they are able to make a living and continue to find inspiration as full-time artists. Contact the artists about having either of them or both visit your area and give a talk and/or demonstration.
Gift Certificates
Gift certificates are available in any amount for lessons, commissions or artwork and are good for 7 years.