Visit
Hours
Closed Tuesdays
July & August
10 AM - 5 PM
All Other Months
10 AM - 4 PM
Private showings 9 - 10 AM by appointment.
Located at the historic shopping area of Queen's Buyway near the Village Green in Falmouth, MA (on the corner next to Coffee Obsession).
Hillary Osborn
The Artist
In addition to actively painting outdoors and accepting commissions, Hillary Osborn teaches and lectures on art. She holds a master's degree in fine arts from UNCG in North Carolina and attended the New York Studio School, studying under Graham Nickson and John Dubrow. Influenced by Fairfield Porter and Richard Diebenkorn she is primarily a plein air landscape and still life painter. She is an artist member of the Copley Society in Boston.
Childhood summer vacations were spent either on Cape Cod where her family history is traced back to the whaling trade on Martha's Vineyard or up in Muskoka Canada visiting family and her great Uncle Lowrie Warrener's studio and cottage. Warrener was a well- known Canadian abstract modernist painter (1900-1983).
After ten years of painting in Provincetown and exhibiting her work in New York City, Hillary Osborn and her husband Doug Rugh, also an oil painter, moved to studio/gallery space in 2008 at the historic Queen's Buyway building on Palmer Avenue in Falmouth Massachusetts.
Oil Paintings
Artist Statement
"One element that I come back to again and again in composing a picture is balance. It may be with shape, color, space or line. I look for it in subtle or understated ways. I admired many abstract artists work and was strongly drawn to them when I studied art history in school. Painting directly from life challenges me to look for that stability in my environment."
"I began painting outdoors in the summer of 1994 while attending a class at the New York Studio School. We would make weekly excursions to the Brooklyn Botanical Gardens or Central Park. After graduating I moved to Cape Cod and set up my studio in Cataumet. I find there is an endless source of material to work from when you paint on location. My husband and I share a studio and gallery in Falmouth on Cape Cod: the Osborn & Rugh Gallery."
-Hillary Osborn
A Special Partnership
For the last 13 years Osborn has partnered with her husband, the artist Doug Rugh, with whom she has shared a special art relationship. The artists take turns manning a studio and gallery: the Osborn and Rugh Gallery. They share an aesthetic philosophy that places major importance on direct observation from Nature as a starting point for artistic decisions made from the artist's imagination. The couple feel that landscape painters need to spend their time in the field working/studying from an ever-changing environment rather than inside copying fixed 2-dimensional snapshots. Paintings range in price by size from $500 to $29,000.
Landscape Commissions
The artist creates landscapes from the surrounding areas through the outdoor season and work up larger studio paintings in the gallery...
Biography
Exhibition history, awards, publications, broadcast etc...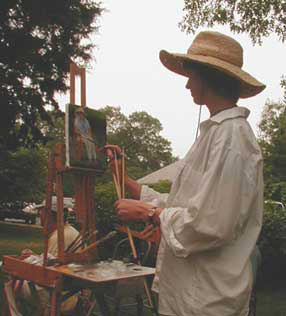 Lessons
Private, Semi-private lessons, workshops, demonstrations and talks...
Works on Paper